Incorporating Access Control into your overall site security infrastructure allows you to control and track the validation and authorization of individuals throughout the facility. By limiting access into areas of increased risk or authorization, one can mitigate the risk of unauthorized access and potential property loss or damage.
Installing access control gives your site's security management team the ability to: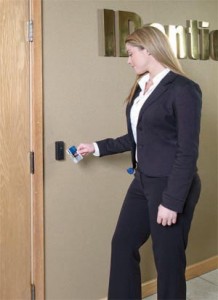 Protect assets

Protect employees

Restrict unauthorized access

Record an audit trail of access areas

Eliminate common problems associated with keys or combinations
Access Control technology is constantly improving. Vehicle tags, long range readers, fingerprint readers, card access, Key FOBs etc. are a few of the more popular tools utilized by complex governmental and industrial worksites. Alamo Integrated Systems is highly qualified to design, install, and warranty, your product installation.
Alamo Integrated Systems (AIS) offers a wide array of Access Control roducts, produced by some of the leading manufacturers in the security industry. Our long standing relationships, many spanning over 19 years, with these key manufacturers demonstrate our position as a committed and valued distribution and installation partner.
AIS supports every installation project with a technically astute onsite and support staff. We apply factory certifications to all of our leading product lines and make it our commitment to consistently maintain these annual certification levels for our service technicians, system engineers and sales staff.
No industrial sized challenge proves too big for the experienced AIS engineering and installation team. Contact AIS today to set up your free on-site analysis and quote review.