The use of Identification Badges has risen in the last few years. The ID badge used to be used only by the military and larger corporations. In recent years we have seen the need for an ID badge rise replacing the name tag. From service companies and outside sales people to education facilities and hospitals. Huntsville AL recently required all outside sales people to get licensed by the city and wear a city issued ID badge while working.
Alamo Integrated Systems, Inc. has been providing badge systems to our customers since the 1990's. We can either produce your authorized employee cards at our office using our state of the art technology or install and create an customized ID Badge System for your organization. Whether you opt to use a design format of your own or elect to commission AIS to design a badge for your institution, you will gain access to Alamo's extensive experience. We can provide.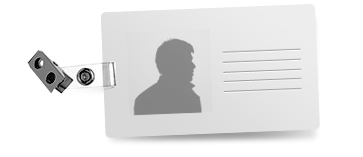 PVC Identification Badges and Systems

Self Expiring Badges

Visitor Management Systems

Lanyards & Badge Holders
Contact Alamo Integrated Systems now for your organization's project quote.